Currently, KBRH Health Foundation has the following three priorities:
Though we have priorities, every Department at KBRH is in need of funding. When you donate to the KBRH Health Foundation, you can designate your donations to a particular department.
You can designate funds by department and/or for a specific piece of equipment.
The Orthopedic Enhancement Project
The Orthopedic Enhancement Project will help provide better care closer to home. This $750,000 Project will purchase state of the art medical equipment for the Operating Rooms at Kootenay Boundary Regional Hospital (KBRH), to be used by the Orthopedic Surgeons.
The Orthopedic Enhancement Project will support 2 new Orthopedic Surgeons, who have been recruited to work at KBRH, as well as our existing team of 4 Orthopedic Surgeons. The equipment purchased will allow the surgical team to continue their excellent work providing hip and knee replacement; hip, knee, ankle, shoulder, hand and wrist repair; and trauma surgeries.
In addition, this new Project will support a new level of service for patients including total ankle replacements and hip and knee replacements with a one-day discharge.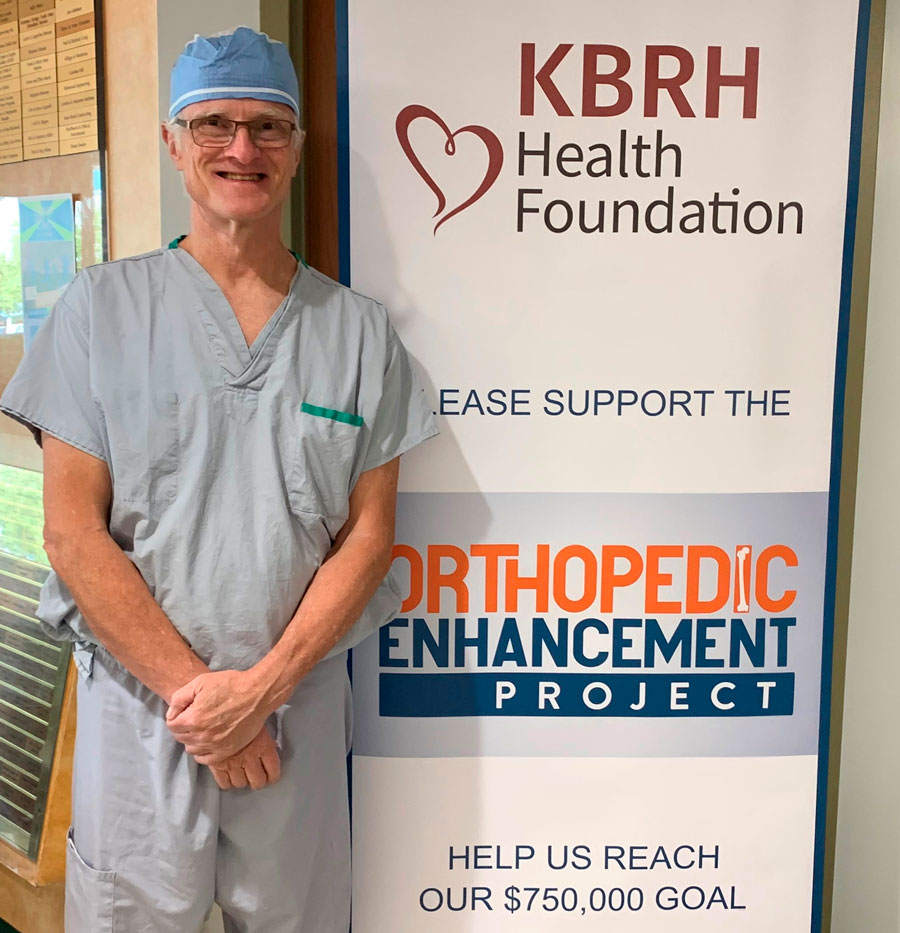 Your generous donation will ensure:
KBRH is the regional service hub for orthopedic surgery and trauma services in the Kootenay Boundary. KBRH provides over 1,700 scheduled and emergency orthopedic surgeries annually.  Our healthcare team depends on your generosity to provide the best care possible. Your donations will equip the orthopedic surgeons with the tools they need and ensure excellence in care is happening closer to home, right here in the Kootenay Boundary.
We look forward to creating a beautiful donor wall to recognize our generous donors. Sponsorship levels are as follows:
We invite you to contact the Foundation should you wish to make a donation to the Orthopedic Enhancement Project 
Spotlight On:
Orthopedic Surgeons
at KBRH
Learn more about the Orthopedic Surgeons who work at the Kootenay Boundary Regional Hospital and how the Orthopedic Enhancement Project will help us bring better care closer to home.
Spotlight On: Dr. Michel Hjelkrem, Orthopedic Surgeon
Spotlight On: Dr. Seth Bitting, Orthopedic Surgeon
Tier 3 Neonatal Intensive Care Unit (NICU)
The KBRH Health Foundation's $700,000 Tier 3 Neonatal Intensive Care Unit (NICU) Project will raise funds to purchase priority medical equipment to support premature babies born in the Kootenay Boundary region. We are asking for your support to help some of our most vulnerable patients – tiny babies.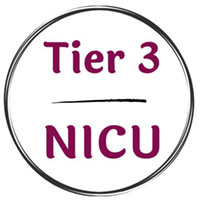 In September 2022 KBRH was approved for Tier 3 Nursery status, which will provide 3 nursery beds with 24/7 nursing. The Tier 3 NICU will provide neonatal services to newborns at approximately 34 weeks and 1800g, or 3.3 pounds, who present moderate risk requiring acute care. As well, an urgent/emergent baby born at approximately 32 weeks and 1500g, or 4 pounds, with appropriate weight for gestational age, may be able to remain at KBRH's Tier 3 NICU. KBRH's Tier 3 NICU will also allow for repatriation of babies from Tiers 4 to 6 sites, for example Vancouver, Kelowna and Kamloops, when it is safe for the baby. The unit can also accept infants from Tier 1 and 2 sites, such as Kootenay Lake Hospital, if enhanced care is needed. Approval of the Tier 3 status also facilitated hiring of a new Pediatrician, growing the number of Pediatricians to 3.
The closest referral hospitals, Kelowna, Kamloops, and Vancouver, are a minimum 4 hour drive, making travel challenging, especially in the winter months. Distance also separates new parents from their families and support systems whey they need them the most. KBRH's Tier 3 Nursery, with equipment specifically designed for infants, along with neonatal trained nurses, will ensure comprehensive maternal and neonatal care for the 88,000 residents in the Kootenay Boundary region, and will strengthen maternal/child care, allowing mothers and babies access to appropriate, safe, and quality care closer to home.
If you would like to help support the KBRH Health Foundation's $700,000 Tier 3 NICU Project which will purchasing priority medical equipment, we invite you to contact the Foundation or donate online.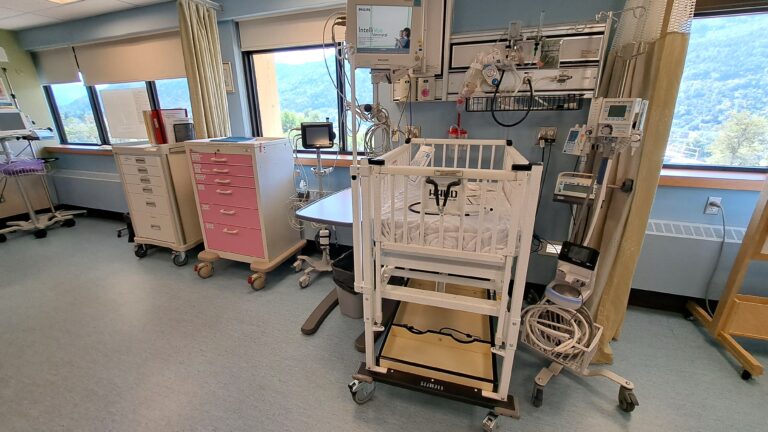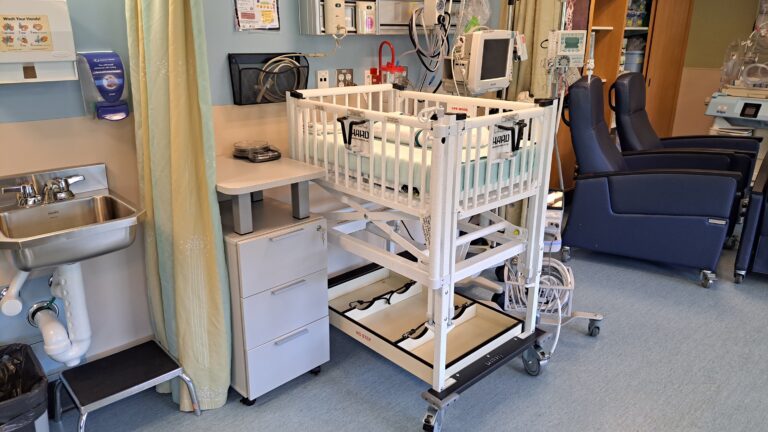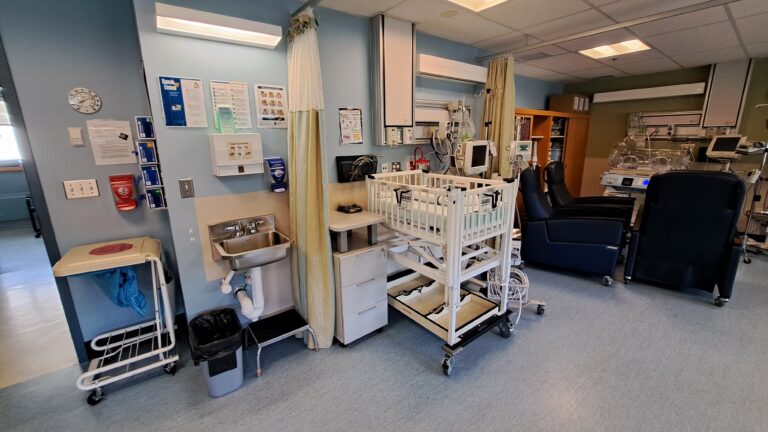 Columbia View Lodge Garden of Gratitude
KBRH Health Foundation is asking you to join us in support of the Columbia View Lodge Garden of Gratitude Project. A diagnosis of Alzheimer's disease is devastating for families, with those afflicted often requiring full time care in a specialized facility due to the complex needs of the Alzheimer's patient. A family's decision to move their loved one away from their family home and into a facility is often difficult and heart breaking.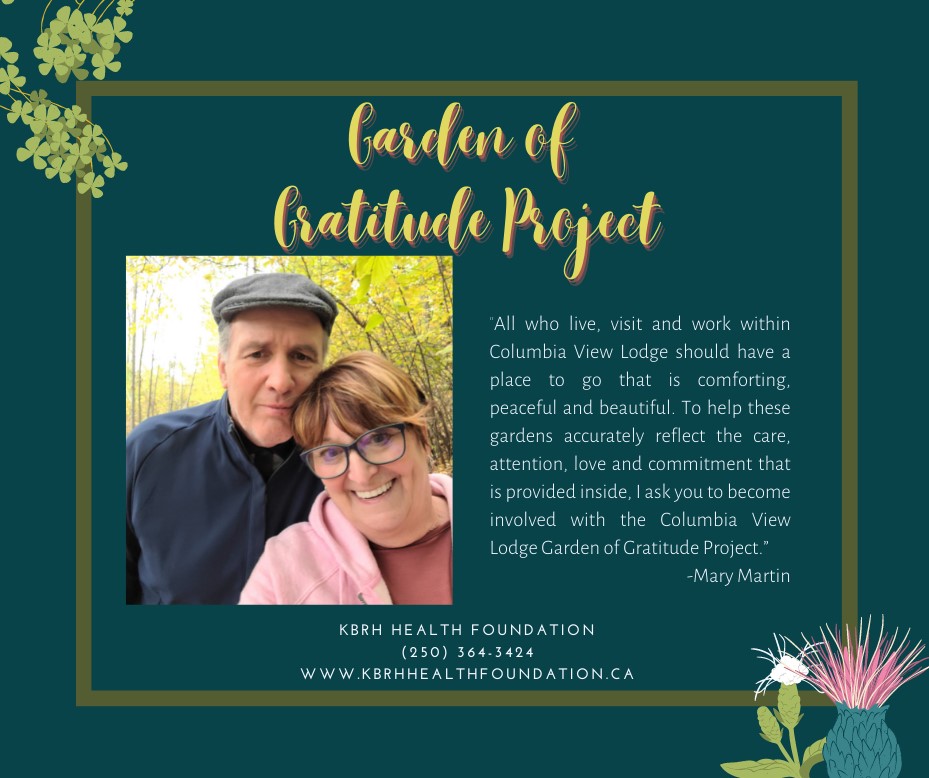 "My husband Richard was diagnosed with an extremely aggressive form of Early-Onset Alzheimer's when he was 59 years old. As time progressed, we realized at some point he would likely require more care and need to have 24-hour supervision. We could not have found a better home for his last months than Columbia View Lodge! Richard was cared for with love, patience and kindness by all.
Through our personal journey of care, we realized the garden courtyards for residents' use have not received the attention they deserve. Alzheimer's patients can benefit deeply from having access to a safe, tranquil garden space. For people living with Alzheimer's, gardens can carry gentle reminders of past experiences and jog the memory through scents, visual cues, and participating in the act of gardening! They are also helpful for the caregivers, who greatly benefit from this much deserved place of peace.
All who live, visit and work within this residence should feel pride and have a place to go that is comforting, peaceful and beautiful. To help Columbia View Lodge's gardens accurately reflect the care, attention, love and commitment that is provided inside, I ask you to become involved with the Columbia View Lodge Garden of Gratitude Project."
Columbia View Lodge is home to 76 residents who deserve to have the best facility possible for their care. The Garden of Gratitude Project is a $200,000 project that will prioritize restoration of the three garden courtyard areas at Columbia View Lodge in order to ensure they are fully accessible and usable. This project will not only benefit the residents, but also their families, visitors and the dedicated staff who provide care each and every day! As of September 2023, 2 of the 3 garden spaces have been fully restored. Donations will be utilized to complete the third garden area in summer of 2024.
To support this project, contact the Foundation or donate online.
Departments in Need of Funding
If you are interested in looking at an Equipment Wish List for a particular department, please contact the KBRH Health Foundation. We can facilitate your purchase of a specific, priority piece of equipment that will improve healthcare for citizens of the Kootenay Boundary. We have the following lists available:
Greatest Need: funds needs across all Departments and Facilities
Our Major Campaign
Ambulatory Care
Columbia View Lodge (General, Recreation, Alzheimer's Unit)
Community Healthcare
Emergency
Endowment ~ Legacy
Family Rooms
General Equipment
Grounds Projects
High Acuity Response Team (HART)
ICU (Intensive Care Unit)
Laboratory & ECG
Medical Imaging
Medical Unit  (Cardiology, Cardiac Rehab, Heart, Stroke, Pacemaker, Diabetes, MS, Arthritis)
Mental Health (Daly Pavilion, Harbour House, Community )
Nursing & Staff Education
Oncology
Patient Care & Comfort
Pediatrics ~ Maternity ~ Tier 3 NICU
Pharmacy
Physiotherapy & Rehabilitation
Poplar Ridge Pavilion (General, Recreation)
Renal (Kidney & Dialysis)
Respiratory Services
Social Work
Surgical Floor
Surgery & Operating Rooms
Thank you for your support.