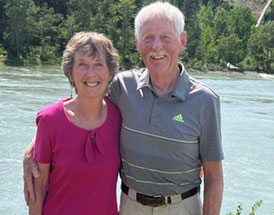 My husband Lorne and I have had the good fortune to raise our three children in the Trail area. This area and the surrounding communities have everything we could ever wish for; good schools for our children, good employment opportunities, great recreation for all, and we are blessed with wonderful friends. We are very grateful to live close to the Kootenay Boundary Regional Hospital for those times when a broken bone needed repairing or a stitch or two was required. As Lorne and I age, our healthcare needs are changing and we realize the benefit of living close to a regional hospital. In 2015 we unfortunately faced a situation when Lorne required urgent urological care.
Dr. Robinson, a Urologist, had recently arrived at KBRH when Lorne required his emergency surgery. Dr. Robinson 'saved' Lorne and for that, we are so grateful. If we had not had such expertise at our local hospital, Lorne would have required urgent transport to Vancouver. Our family was again positively impacted in 2022 when I was 'saved', in the purest sense of the word, by Dr. Schumacher, a General Surgeon. I arrived at the hospital in the middle of the night and within 14 hours I was operated on.

During my week in our hospital, I was impressed with everyone who tended to my needs, helping me heal. We are blessed to have our hospital staffed by so many qualified, highly skilled, caring and valuable employees. Having a regional healthcare facility is an asset one truly appreciates when they find themselves in need of medical care. It is impossible to put a monetary value on its importance during such events. Through the Foundation's fundraising efforts, the best in medical equipment was provided to support the work of Drs. Robinson and Schumacher.

I encourage anyone who isn't familiar with the KBRH Health Foundation to call them or visit their website and learn about the very important part they play in improving local healthcare. It is essential that our community supports all the departments that fall under the umbrella of KBRH by giving generously. KBRH and its medical team saved our lives and that is why we donate to the KBRH Health Foundation.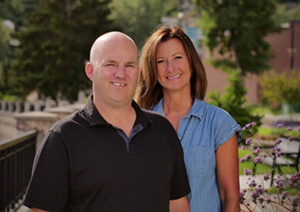 Grateful to KBRH – a small town feel, with big city support.
Derek Waterstreet remembers going on his hunting trip, but he doesn't recall the chain of events that occurred after suffering a massive heart attack and being admitted to KBRH's Intensive Care Unit. In the end, Derek would spend 11 days in the ICU under the care of Dr. Mountain.
"We are so grateful for the outstanding care we received from Dr. Mountain and the KBRH team during this stressful time and my care in ICU. My wife felt part of the team, all treatments were clearly explained and she was encouraged to ask questions related to my progress and procedures.
I received treatment and procedures which involved the latest technology and medications. Both immediate and extended family praised the service and support that they received at KBRH. The convenience of my family being able to stay home during my treatment also helped us to get through this experience; it meant that my family and close friends could visit more frequently and support each other during my time in the ICU and once I was discharged. We were able to preserve the "small town feel of having a connection, but with big city support". We truly are grateful to all doctors, nurses, respiratory therapists, pharmacists, x-ray technologists, laboratory technologists and support staff for their excellent care; they made us feel part of the team and ultimately inspired us to donate to the Grateful Patient Program. We are forever grateful to Dr. Mountain and the team at KBRH."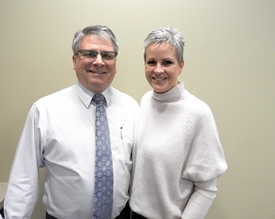 Thankful for the Kindness of the KBRH Community
Melanie's life changed when the results from a routine mammogram indicated she had breast cancer. Her journey through cancer diagnosis and treatment were assisted with the kindness and caring of health care staff and doctors at KBRH.
"I woke up one morning prepared myself for a routine mammogram. I patiently waited over the next week for results. Unfortunately a biopsy was needed. The next call I received was from my doctor "I'm sorry to tell you your results showed cancer".I still remember that feeling of numbness and thinking this can't be happening.
I underwent 2 partial mastectomies removal of some lymph nodes 8 rounds of chemotherapy, blood work every two weeks, ECGs, MRIs, PET scan, removal of my ovaries, carpal tunnel surgery and a month of radiation treatment in Kelowna. Going through cancer is not only emotionally and physically difficult on yourself but also extremely hard on your family. With the support of my family, friends and the wonderful care from my amazing husband Bruce who kept me organized with doctors appointments, medications and love throughout this journey, I new I would survive. I had decided from the start to hold my head high my shoulders back and go through this chapter of life the easiest and fastest way possible.I feel very thankful and grateful that we have KBRH in our community. I can't say enough about the amazing care that I received from Dr. Scotland and staff in the oncology department. Dr Merg who was so kind and conscientious of the cosmetic outcome. He is a wonderful surgeon. The nurses that cared for me during and after surgery were fantastic right down to the lab technicians and receptionists. As well as the BC Cancer Center in Kelowna, what an amazing healthcare facility to have access to only a few hours away. Thank you KBRH for your outstanding services!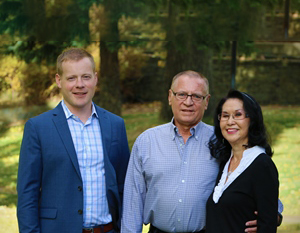 Showing Our Gratitude for the Care We Received at KBRH
Larry Dux knew that his life was forever altered when he was diagnosed with Stage 4 Prostate Cancer. It was during this stressful time that Larry and his wife Sue were counselled by KBRH's Urologist Dr. Robinson for Larry to undergo a radical prostatectomy.
"Dr. Robinson was very professional and explained the treatment options to us. Once we determined I needed a radical prostatectomy I was very anxious. However, both Dr. Robinson and the operating room staff were very friendly and comforting during the entire process. I truly believe that it was due to Dr. Robinson's expertise and meticulous operating procedures that the operation was a complete success.
The care I received right from admittance, during the operation, and from the recovery staff and the floor nurses was exceptional. KBRH is blessed to have such competent and caring people working there. The service I received at KBRH was a lifesaving experience for me and I cannot express my gratitude enough to all involved. The experience inspired us to make a donation because my wife and I are forever grateful to Dr. Robinson and the staff at KBRH."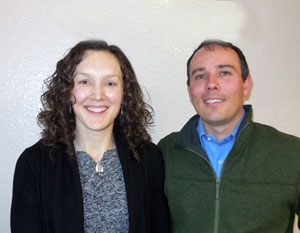 Coming Home and Giving Back to Our Community
Mary and Roger Austin feel that KBRH is a cornerstone of what makes living here in the Lower Columbia so amazing. They decided to become part of the community who supports the hospital and it's staff, by donating to the KBRH Health Foundation.
Roger and I have been very fortunate to grow up here in the Lower Columbia region, my own family having lived here for several generations and Roger, who moved here as a teenager. When we were younger we didn't fully appreciate our region's amazing access to world-class health care, and took it for granted. As we got older and moved away for school and work, we realized that the level of care we had grown up with did not necessarily exist everywhere.
When we considered donating to the Kootenay Boundary Regional Hospital, so many thoughts came to mind. When we delivered our daughter in the beautifully renovated maternity ward we felt so welcomed by the staff and comfortable in the space. As our children grow, our family has received excellent care in the emergency ward for their broken bones and other urgent medical issues. When we are in our hospital, we feel very fortunate knowing that the whole community has access to incredible specialists and a talented team of nurses, doctors and support staff who take the work they do seriously, and go above-and-beyond in the care they provide. Our hospital is a cornerstone of what makes living here in the Lower Columbia so amazing and we are happy to be a small part of what the community can do to support it, by donating to the KBRH Health Foundation."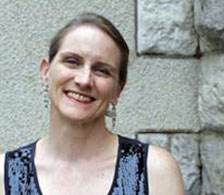 Personal Connection Inspires My Support
Carolyn Cameron relationship with KBRH is personal. She has been a patient, the parent of a patient and her spouse is a KBRH employee. Carolyn's support for KBRH supports her family and community to receive the benefits of accessible health care.
"Our household gets many solicitations for charities. I am most likely to donate to something if it carries a personal connection or if it moves me in some way. The KBRH Health Foundation is personal. I have used the services of our local hospital as a patient, parent and spouse of an employee. There is nothing like the feeling of contributing to cutting edge equipment, and then directly benefiting from it. Everyone in this area will use the hospital at some point. Why not contribute to a charity which will benefit you and pretty much everyone you know?"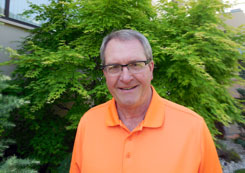 A Proud Volunteer Who Has Raised Funds For Our Hospital
After 2 life threatening medical events were taken care of by KBRH staff for Forrest Drinnan, he decided that giving back would be his focus.
"In April 2015, I experienced tightness in my chest and went to the Emergency Department at KBRH. As I entered the Emergency Department, the great staff of nurses and Dr. Gill took over and within a few minutes determined I was having a heart attack. I was stabilized and transferred to the ICU, but had another heart attack. Dr. Mountain expedited my transfer to Kelowna by Air Ambulance so I would not have to wait over the weekend to have further testing and determine the Angiogram showed severe blockages and I required open heart surgery.
Within 5 days of experiencing chest tightness and visiting the ER at KBRH, I had quadruple bypass surgery at Kelowna General Hospital, convalesced in the Coronary ICU, then onto a ward for recovery. I was released from Kelowna 1 week later after passing all the steps. The care I received in Kelowna was top quality as well.
In September 2015, I experienced another heart attack and went to Emergency in Trail. I was ambulanced to Kelowna the next day and had an Angioplasty, where a stent was placed in a heart vein to improve the blood flow. I was released the following day.
These were two life threatening events that were taken care of by the medical team in Trail and by the surgical staff in Kelowna. I would not be here to tell my story today, without the quick work of the medical staff who stabilized me so I could be transported for the necessary procedures. The follow up care, right here in Trail, has been exceptional.
How lucky are we to have these facilities in our area. The equipment used was state of the art and assisted the team to diagnose my problem and get me stable.
I am proud to be a volunteer who has raised funds for our hospital and will continue to praise the level of care we expect here in Trail. I encourage others to help where they can."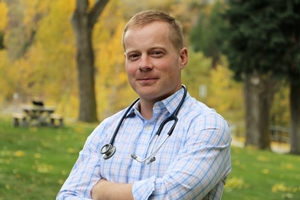 Donations Enhance Health Care for Our Region
Dr. Michael Robinson, Urologist
"The KBRH Health Foundation plays a central role in providing the highest level of care to patients in the Kootenay Boundary. I would not be able to provide the scope of surgical care to my patients without the support of our local hospital Foundation. I truly believe that one of the best ways to ensure continued excellence and promote further improvements in care for patients in our region is through strong support of the KBRH Health Foundation. I am grateful for the support that the Foundation has provided to the KBRH Urology program. Please join me in support of the KBRH Heath Foundation so we can improve health care provision across all departments at KBRH."